Posts for: December, 2017
By Mill Pond Dental Group
December 16, 2017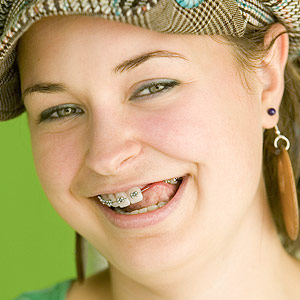 There are good reasons, for both health and appearance, to replace a missing tooth with a dental implant or similar restoration as soon as is practical. The bone around a tooth socket diminishes the longer it remains empty, up to 25% the first year. And, of course, your smile is less attractive, especially with a highly visible tooth.
If it's your teenager, though, you may need to wait on a permanent restoration because their jaws are still developing. An implant placed before completion of jaw development could eventually appear out of alignment with neighboring teeth.
Our biggest concern is protecting bone health at the site of the missing tooth. We can do this and encourage growth by placing bone grafts (processed minerals from another donor) that serve as scaffolds on which surrounding bone can grow. Grafts usually dissolve (resorb) over time, but the rate of resorption can be slowed for a younger patient in need of long-term bone growth.
Planned orthodontic treatment can usually go on as scheduled. The orthodontist may accommodate the tooth loss by adding a temporary tooth within the braces or other device that matches the color and shape of the patient's natural teeth. The orthodontist will also take care to maintain the empty space for a future implant or other restoration.
A dental implant is considered the best option for a missing tooth, not only for its life-like appearance and durability, but also its ability to encourage bone maintenance. Timing, though, is essential for teenagers. As it grows, the upper jaw will tend to move forward and down. Natural teeth move with this growth; implants, though, are attached differently and won't move with the jawbone. While the other teeth around them move, the implants can appear to shrink back resulting in an unattractive smile appearance. So waiting until the jaw has finished growing is important.
For most people, jaw growth finishes by age twenty-one for men, women usually faster, but each person is different. The dentist's expertise and experience, coupled with comparisons of adult family members' facial appearances, will help determine the right time to undertake a permanent restoration for the best outcome both for health and a permanent, attractive smile.
If you would like more information on treating teenagers with missing teeth, please contact us to schedule an appointment for a consultation. You can also learn more about this topic by reading the Dear Doctor magazine article "Dental Implants for Teenagers."
By Mill Pond Dental Group
December 08, 2017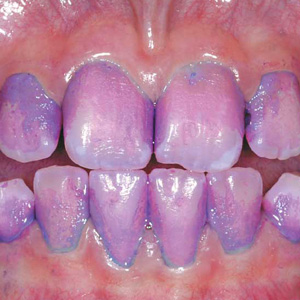 Brushing and flossing every day are important for preventing dental disease. The object is to remove as much bacterial plaque, the thin biofilm most responsible for disease, from your teeth and gums as possible.
But how do you know your hygiene efforts are that effective? You can of course do the "tongue test" â?? feel your teeth with your tongue after brushing and flossing and see if they feel smooth and "squeaky" clean. We can also give you a "report card" at your regular cleaning appointment. There is, however, a more precise way you can find out at home by using a plaque disclosing agent.
A plaque disclosing agent is a formulation that when applied to the teeth will temporarily dye any bacterial plaque present a distinct color. While dental hygienists occasionally apply them, they're also available over the counter for use at home. They're usually found in a solution, tablet or swab form in various flavors.
To use the product you first brush and floss, then swish the disclosing liquid around in your mouth for about 30 seconds before spitting it out (or chew the tablet or apply the swab as directed). The agent will react with any remaining plaque and dye it a bright color. There are even two-tone agents available that can differentiate between old and new plaque and dye them different colors.
Examining your teeth in a mirror will give you a good idea where you need to concentrate your attention when brushing and flossing. If, for example, you see dyed plaque more along the gum line and less in other places, then that's where you should focus your hygiene efforts.
While the dye will eventually wear off on its own, you should take the opportunity to brush and floss again to remove any remaining dyed plaque. Not only does this provide a more thorough cleaning at that moment, you'll also get a better sense of how "thoroughness" feels for future brushing and flossing.
It's always good to know how well you're doing with your dental hygiene efforts. A plaque disclosing agent can give you just the right feedback to help you improve.
If you would like more information on proper oral hygiene habits, please contact us or schedule an appointment for a consultation. You can also learn more about this topic by reading the Dear Doctor magazine article "Plaque Disclosing Agents."